Here at Fortynine and Fifth, it is of paramount importance that we use the absolute best products for your hair to help you achieve the look that you so desire. You can rest assured knowing that our full trust is placed in the combination of treatments, shampoos and conditioners that we use on your hair and that they created by industry professionals who have taken the time to create the perfect formulas to be used on your tresses.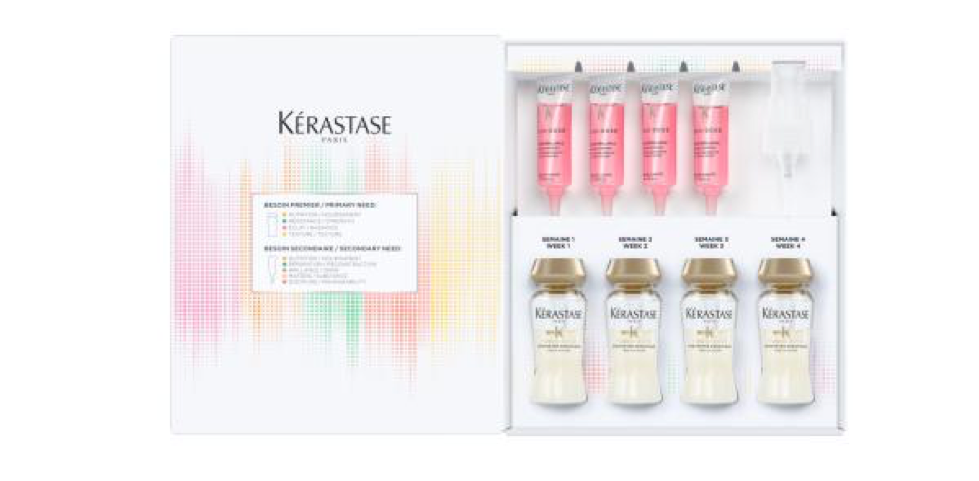 Created by L'Oreal, Kerastase products have been meticulously crafted to offer the finest level of hair care. The range of luxury products that we use here at Fortynine and Fifth take into consideration several elements of the hair, analysing the details and composition of each strand. Looking at hair type, scalp concerns and internal and external factors, a solution to help you have fantastic, healthy hair has been formed. The products, created by scientists at L'Oreal, come in ten varieties, each personalised for a different hair type.
It is L'Oreal's trusted reputation and their expert knowledge that make the Kerastase range one of the best out there for salon use. Since 1964, Kerastase has allowed hairdressers to gain a thorough grasp of the needs of their client's hair. From this intimate understanding, the most accurate estimation of what works best for your locks can be made, with the products matching up to this. Thus, after your initial diagnosis, a personalised treatment can be tailored for you that targets the needs of your hair.
So, why is Kerastase best for your hair? Over the past 54 years, advanced research and pioneering science mean that the treatments are constantly ahead of their game, looking for new solutions and ingredients to create the perfect combination for clients. Not only is the science essential, but providing a luxury experience unlike any other is just as vital. The opulent packaging and indulgent scents mean that Kerastase products are a pleasure to use, whether at home or in the salon.
Of course, the use of Kerastase products can be used beyond the doors of Fortynine and Fifth. Their spectacular range can also be used at home to keep your hair looking salon-fresh with every wash. Following the analysing of your hair, a personalised program to follow at home will be advised, with each step carefully catering to a different characteristic of your 'do.
If you're interested in uncovering how Kerastase products could help transform your hair, pop into our North Devon hairdressers, where one of our expert stylists will be able to run you through the options that are best for your hair. So, whether you're curious about trying out a new style or are wondering if there is a suitable product to help revitalise your locks, get in contact today to find out more!
Have you ever used Kerastase products? If so, let us know how you've found the range of products and if you've noticed a difference!